Patented Thermal Technology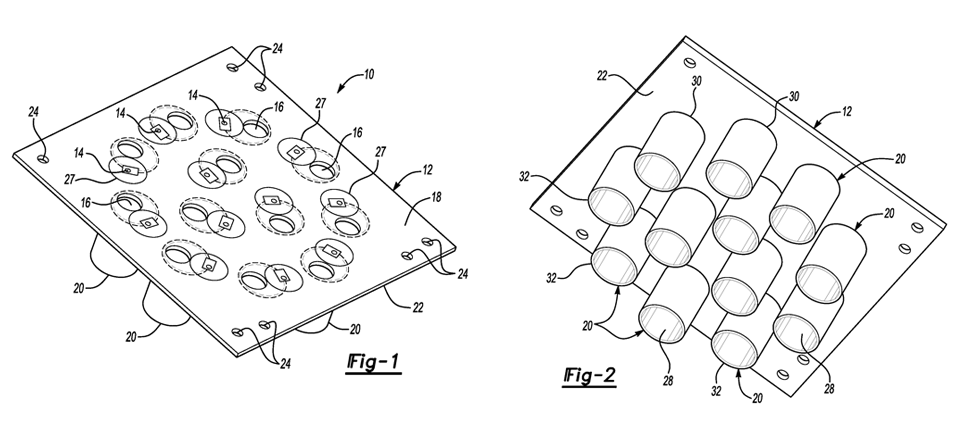 Black Tank is proud to announce the award of US Patent No. 8,767,398 which has been granted in North America, South America, Asia, and Europe.
The patented heat sink technology, developed by Black Tank and used in Rosco's MIRO Cube™ family of products, is capable of efficiently dissipating large amounts of heat from high power Printed Circuit Board (PCB) surface mounted LED chips and enables extended fixture life without sacrificing light intensity. It can be utilized with inexpensive FR4 circuit board material allowing for compact and lightweight, scalable, configurable and modular LED fixture designs to be developed in varying shapes and sizes. Black Tank's heat sink technology keeps the exterior of LED fixtures cool to the touch. It also enables the removal and replacement of LED modules, providing a means to "future proof" the LED modules in fixtures as LED technology progresses or as a means to maintain aging luminaries.
Compact, Lightweight Luminaires With Output Equal To Fixtures 4 To 5 Times Their Size

Extended Fixture Life Via Even and Efficient Heat Removal- Without Sacrificing Light Intensity

The Exterior Of LED Fixtures to Stay Cool To The Touch During Continuous Operation

Removal And Replacement Of LED Modules – Providing A Means To "Future Proof" The LEDs As Technology Progresses Or As A Means To Maintain Aging Luminaires

Fixture Design Without The Need For Bulky Aluminum Fins Or Heat Sinks Coupled To The Fixture Housing
Please CLICK HERE to contact Black Tank to discuss implementing this technology in your next product or to discuss fixtures already using this technology.
Proprietary and Patented Electronics Platform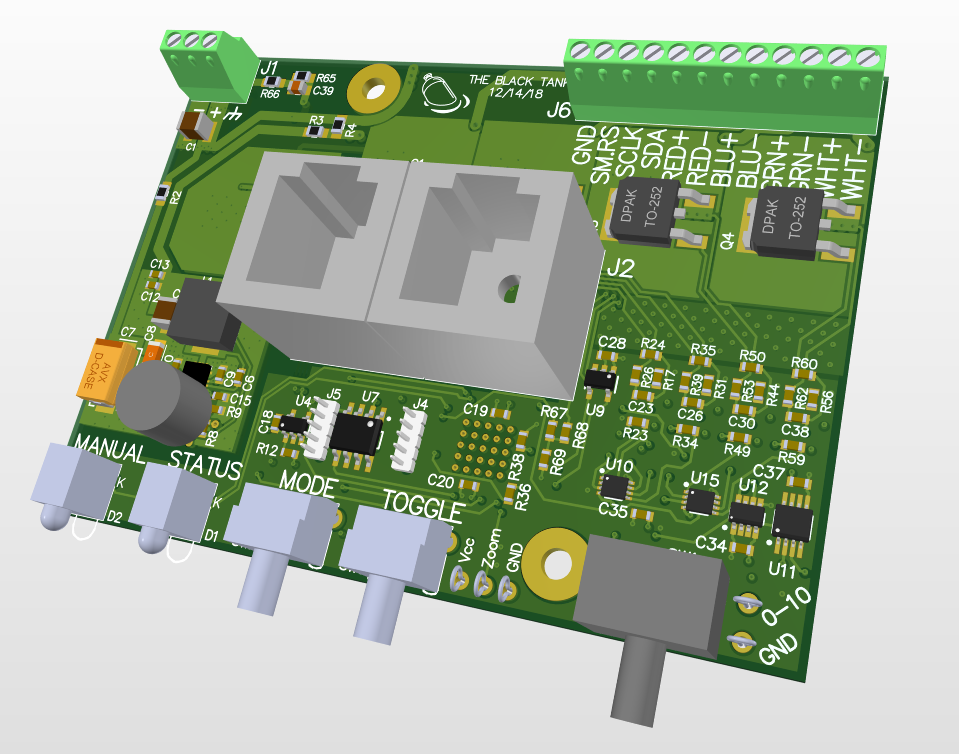 Black Tank products come packed with cutting edge technology. View the list below to check out all of our proprietary and patented options:
Ludicrous Mode – Separately Regulated Voltage and Current – Patented electronics (US10021751B2) adjusts current and voltage independently and maintains PWM resolution through the entire dimming range.

0-10V dimming with Simultaneous DMX Control.

Ability to "lock" a custom color into memory which can be dimmed with one channel of DMX or a standard 0-10V dimmer.

Full Speed DMX Control provides theatrical grade dimming and control.

One of the only drivers on the market that is 100% RDM Compliant.

Replaceable LED Boards and Field Serviceable Design enables upgrades as LED tech changes.

Small form factor allows seamless integration into OEM products.

DMX Control of Zoom Lens (available with zoom optic) from native optic beam to 60 degrees.

Auto Data Logging – Tracks runtime and on/off cycles to support future planning.

Black Tank's patented Calibration Electronics ensures consistent output

Ultra-High Speed PWM Rates – Selectable 4khz or 16khz (perfect for high speed studio camera applications).

Filament Fade – Select 1 of 4 filament fade settings (off, slow, medium or fast) to emulate the lag experienced when adjusting the brightness of an incandescent bulb.

Master Dimmer – Allows a color or CCT to be set on all channels using DMX, and then dimmed using a single DMX control channel (Adds additional fader to control scheme).

8 or 16 bit DMX

8 bit mode provides one DMX channel for each color/CCT.

16 bit mode provides two channels for each color, to create greater control resolution.


"Manual Mode" – Set the color/CCT and save it in the fixture; alleviating the need for a control system.

Serial Mode – Control via RS232 commands for integration into show control environments.
Please CLICK HERE to contact Black Tank to discuss implementing this technology in your next product or to discuss fixtures already using this technology.