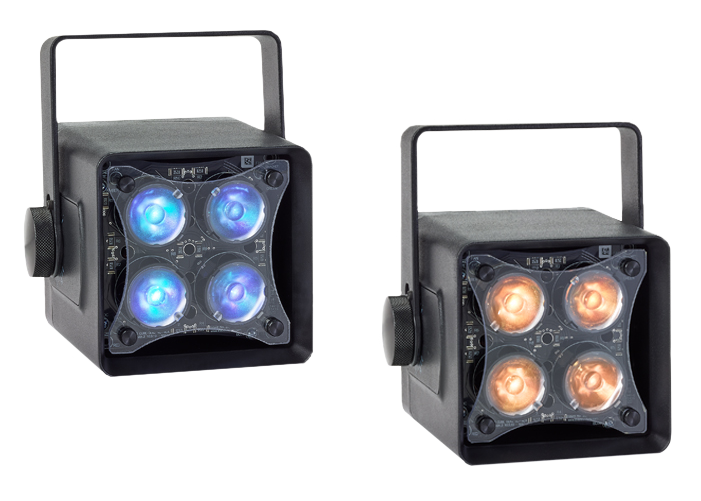 The Miro Cube 2 range of LED fixtures is engineered to provide lighting designers and integrators with precision light control and tech-enabled solutions to execute their projects with accuracy and efficiency. Their sleek design is packed with state-of-the-art technology that provides maximum output and flicker-free dimming from a 4-in. (10 cm) cube-shaped LED light.
The Miro Cube 2 4C is an RGBW color-mixing fixture for producing bright and bold colors. The fixture's white emitter can also be used to create tints and pastel colors.
The Miro Cube 2 4CA is an RGBA fixture that features a unique, phosphor-converted amber chip for creating rich warm-tones. The 4CA also produces a warm white light – as low as 2200K – that features a full color spectrum and high CRI.
The numerous features of these two fixtures make them an excellent choice for illuminating museums, themed environments, broadcast studios, or any installation that needs voluminous amounts of light – without large, bulky fixtures.

No space is wasted in the Miro Cube. Our unique patented heat management system allows 50W of LEDs to be packed into a tiny 4 inch cube.

Our Cube fixtures offer a full range of flicker-free operation which is significantly important for Film and TV industry.

Completely connectorized internally, new LED boards can be installed in minutes – for repairs or upgrades or even converting a 4C to a WNC in the field.

Comparibility and reproducibility are important, and we make sure our LEDs are tightly binned ensuring you have matching light from one cube to the next.
Ludicrous Mode™ For Maximum Output
The Miro Cube 2 4C and 4CA are a 50-watt fixtures that utilize their full potential – no matter what hue or color temperature they're producing. Our Patented Ludicrous Mode intelligently redistributes the fixture's power to maximize its output. Combine this feature with the patented Miro Cube heat management system and you've got an ultra-compact light fixture capable of producing incredibly high light output. The best part? You don't have to do anything. Every Miro Cube 2 fixture ships with Ludicrous Mode already enabled.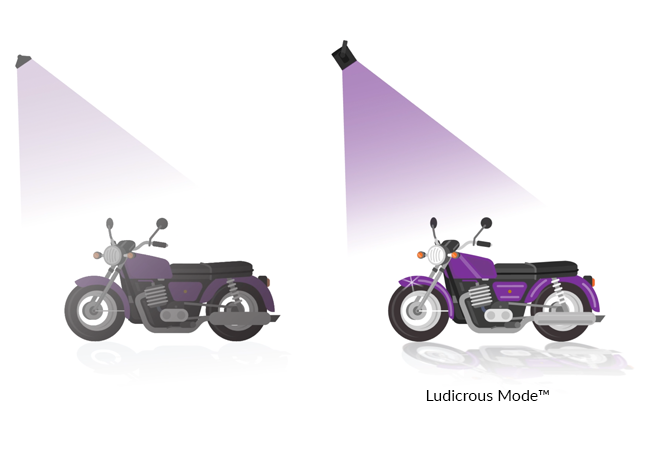 Specify The Fixtures To Arrive Pre-Tuned
Many projects simply program the light once – and then the settings never change. Even so, programming large projects can take up a lot of valuable time on a job site. Miro Cube 2 4C & 4CA fixtures can ship from the factory pre-programmed to a specified hue or color temperature. This removes the need to program the fixtures on-site – making integration much faster and easier.
Miro Cube 2 4C & 4CA fixtures can be controlled by many popular control options, including: RDM compatible DMX and 0-10VDC, or via a mobile device using the myMIX™ Connect accessory and the myMIX™ App. The fixture provides flicker-free dimming via 16kHz PWM in 8- or 16-bit resolution or via its unique NO PWM mode.
Miro Cube 2 also features our unique Master Dim Mode that enables users to set their desired color, or color temperature, then dim the fixture at that setting via a single control channel.
A Classic Conversion option, featuring the Powercon/XLR connectors and LCD user interface used in the original Miro Cube 4C & 4CA models, is also available.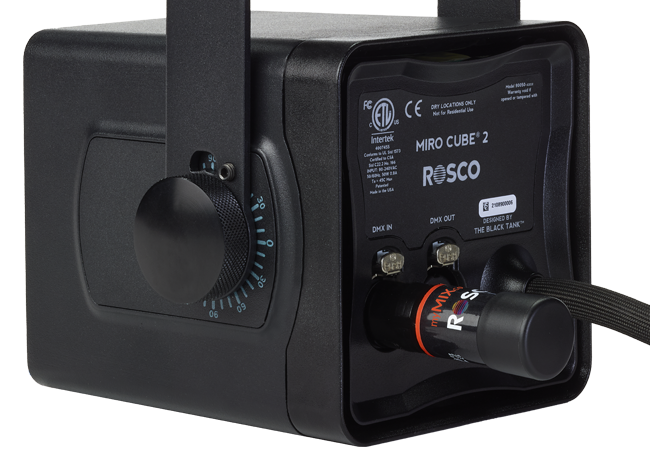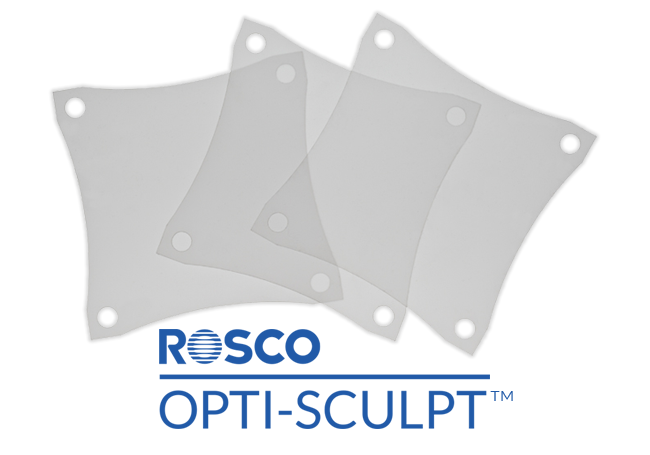 Wide Variety of Beam Control Options
Each Miro Cube 2 fixture ships with an OPTI-SCULPT Lens Kit that contains three Rosco OPTI-SCULPT Lenses: 20°, 30°, and the reversible 40°R60°. All of the other individual OPTI-SCULPT lenses are available for the Miro Cube 2 as well. Visit the Rosco OPTI-SCULPT product page to learn more about these unique beam-shaping lenses.
A range of beam control accessories are also available for the Miro Cube 2, including Barn Doors, Top Hats and an Egg Crate Louver.
Distinctive Design With Customizable Color Options
A good lighting design doesn't draw attention to the fixtures. It's important, however, to have a well-designed fixture – just in case anyone ever looks up. From its rounded corners and side accent panels, to the yoke marks that enable precise focus angles – every element of the Miro Cube 2 design has been purposefully thought out. Whether they're illuminating a museum, a house of worship, or a retail store – the universal design of the Miro Cube 2 lighting fixtures will feel at home in any venue.
Not every project needs black or white fixture housings. Sometimes the lights need to match the color scheme of the rest of the design. Not only can the housing color of the Miro Cube 2 be specified into a wide range of RAL colors, but the fixture's side accent panels can also be customized to provide a two-tone aesthetic.