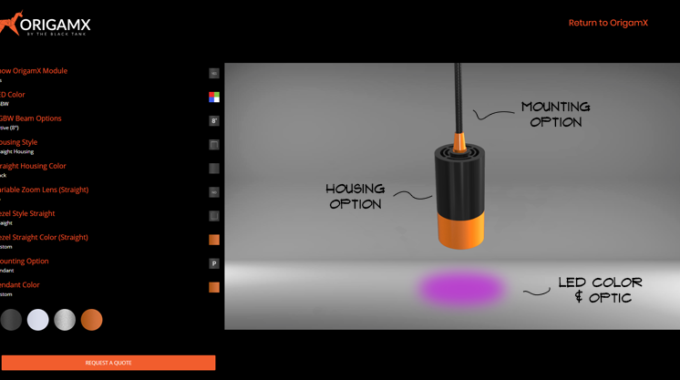 Named for its unique folding circuitry, the OrigamX LED Engine merges the latest technology with a flexible, refined form.
OrigamX produces the highest quality of light without sacrificing aesthetic appeal — meeting the unique needs of both Lighting Designers and Architects.
Configure your own fixture. Specify the LEDs, optics and housings to fit your project.

Key Features
---
Configure Using Online Software
Forget Data Sheets. Select LED Configuration, Native or Zoom Optic, Housing Styles/Colors and Mounting via Online App.
Easy Install
Pull a single Cat5 to the Fixture Location, Terminate with RJ45 and Plug In to recieve power and data.
More Tech Per Cubic Inch
Unique Folding Circuit Design provides smallest, most versatile form factor available.
Quality of Light and Control
Patented calibration circuitry provides unique control features – including master dimmer control, up to 16khz PWM, and incredibly smooth, theatrical grade dimming to 0%.
Intense and Efficient
Ultra-compact, modular form factor uses Black Tank's patented heat sink to provide a superior 20 watts and extended LED lifetime.

Configure Using Online Software 
No Part Numbers or Data Sheets
LED Color & Optic Option
Select a tightly binned LED configuration and native or variable zoom optic.
Housing & Color Options
Choose a housing style to match your aesthetics with several versatile configurations and colors.
Mounting Options
Select a mounting method to fit perfectly into your application.

Click Here to Learn More About the OrigamX Architectural Lighting System.