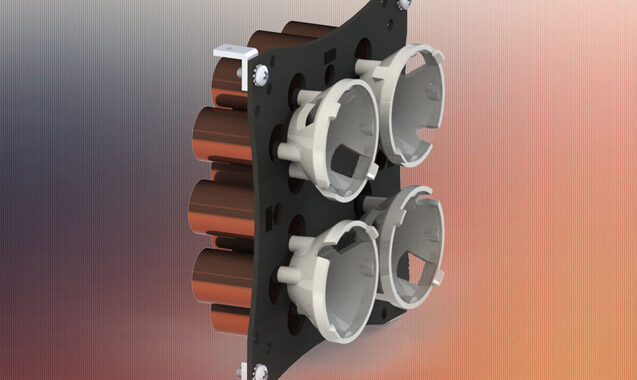 The patented heat sink technology, developed by Black Tank and used in Rosco's MIRO Cube™ family of products, is capable of efficiently dissipating large amounts of heat from high power Printed Circuit Board (PCB) surface mounted LED chips and enables extended fixture life without sacrificing light intensity. It can be utilized with inexpensive FR4 circuit board material allowing for compact and lightweight, scalable, configurable and modular LED fixture designs to be developed in varying shapes and sizes. Black Tank's heat sink technology keeps the exterior of LED fixtures cool to the touch. It also enables the removal and replacement of LED modules, providing a means to "future proof" the LED modules in fixtures as LED technology progresses or as a means to maintain aging luminaires.
"The patented heat sink technology provides a robust thermal management strategy for high-output, professional luminaires used in theatrical environments and specification grade architectural fixtures such as the MIRO Cube Series", said Robert Kodadek, President of Black Tank. "It enables heat generated by LEDs to be dissipated continuously during operation, without bulky aluminum fins or components integrated into the metallic housing of the fixture. While these other methods can be effective, they add significant weight and size to the overall fixture, look aesthetically less pleasing, and typically generate heat on the outside surface of the light".
"The new technology developed by Black Tank enables our MIRO Cube fixtures to provide exactly what our customers are looking for", said Jack Burwick, Sr. Product Manager for LED Products at Rosco. "The fixtures are light and compact, without being hot to the touch, and offer incredible output and quality of light – all in a unique 4" cubed enclosure. Typical 50 Watt fixtures are usually several times the size of the MIRO Cube. We look forward to introducing more innovative products using Black Tank's technology."
US Patent No. 8,767,398 has been granted and is pending internationally.